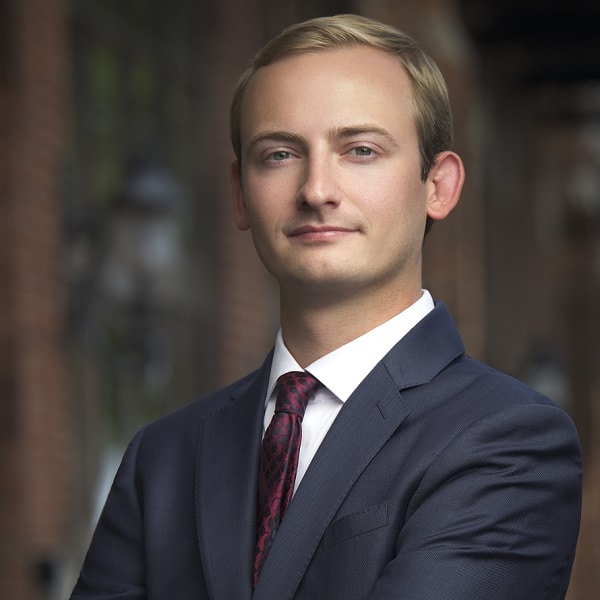 Jacob Blankenship's roots run deep in Paducah, Kentucky, where he grew up and developed a profound connection to the community. He embarked on his academic journey by earning a Bachelor of Science in Business Administration with honors, majoring in Finance, from the University of Louisville in 2016. His unwavering commitment to excellence led him to law school at the University of Cincinnati College of Law, where he received the esteemed George A. Dornette Professional Responsibility/Legal Ethics award.
Jacob's legal career began in Covington, Kentucky, where he clerked for two years while diligently pursuing his law degree. As an associate attorney, he further honed his skills, gaining valuable experience along the way. Now, he has returned to his hometown and dedicates his practice to several key areas, including estate planning, estate and trust administration, real estate law, business, and corporate transactions and contracts.
At the core of Jacob's practice is the belief that everyone, regardless of wealth or status, should have a comprehensive estate plan. He understands that estate planning isn't solely about financial matters; it's about ensuring that the wealth and estate a person has built over their lifetime is passed on to their chosen beneficiaries. Jacob's expertise brings peace of mind to his clients, knowing that their wishes will be fulfilled and their loved ones will experience a smooth transition. He specializes in simplifying the probate process during times of grief, minimizing tax consequences, and addressing guardianship and custody issues, including the protection of Medicaid benefits for those with special needs.
Jacob's approach to estate planning is rooted in responsiveness, attention to detail, and thorough knowledge of the field. He has encountered a diverse range of estate planning scenarios, from simple to complex, and has developed a deep understanding of the nuances within this area of law. Jacob has crafted hundreds of estate plans, each one a testament to his commitment to safeguarding the legacies and futures of his clients.
For Jacob, success is measured by the knowledge that he has protected countless families and ensured that their estates pass into the hands of their chosen heirs. His dedication to this mission is unwavering, making him a trusted advocate for those seeking to secure their legacy and find peace of mind through comprehensive estate planning.
Education
University of Louisville, B.S., Cum Laude, 2016
University of Cincinnati College of Law, J.D., 2020
Admitted to Practice
Kentucky, 2021
Ohio, 2020
U.S. District Court, Southern District of Ohio
Professional Associations
Kentucky Bar Association
Ohio State Bar Association
McCracken County Bar Association
Practice Areas
Business Entities
Contracts
Corporate Law
Estate Planning
Mergers & Acquisitions
Real Estate Law
Tax Law
Will, Trusts, Estate and Probate
Achievements
Leadership Paducah Class #36
Personal
Jacob R. Blankenship was born in Paducah, Kentucky.
He is married to Madison Blankenship.
Jacob enjoys playing golf and traveling in his spare time.